Light Climber
How quickly can you turn on all the lights?
Proudly part of the PICO-8 Advent Calendar 2018
(https://lexaloffle.com/bbs/?pid=59497)
Game Modes
Arcade - Can you beat all 10 stages of light patterns and set a new time record?
Random Stage - A randomly generated 100 light stage for you to practice on.
Endless Mode - A randomly generated endless wave of lights. How far can you make it before your energy levels drain?
Controls
| | |
| --- | --- |
| X | Select |
| Left/Right/Up/Down | Turn on Light |
| P | Pause/Resume |

Menu Options
Return to Title - Returns to the title screen
Comfort On/Off - Toggles the comfort panel in the game screen
!Clear HiScores! - This clears the saved hiscores for Arcade and Endless mode
Game Layout
Arcade Mode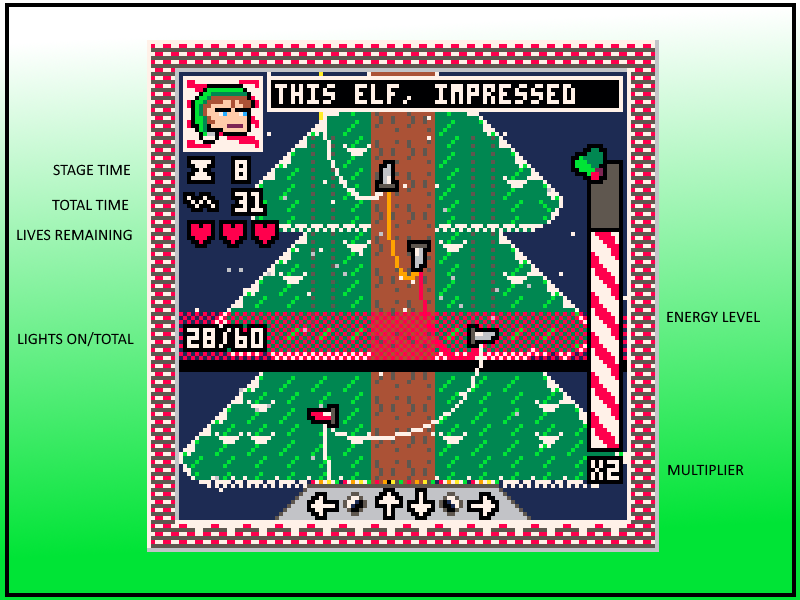 Endless Mode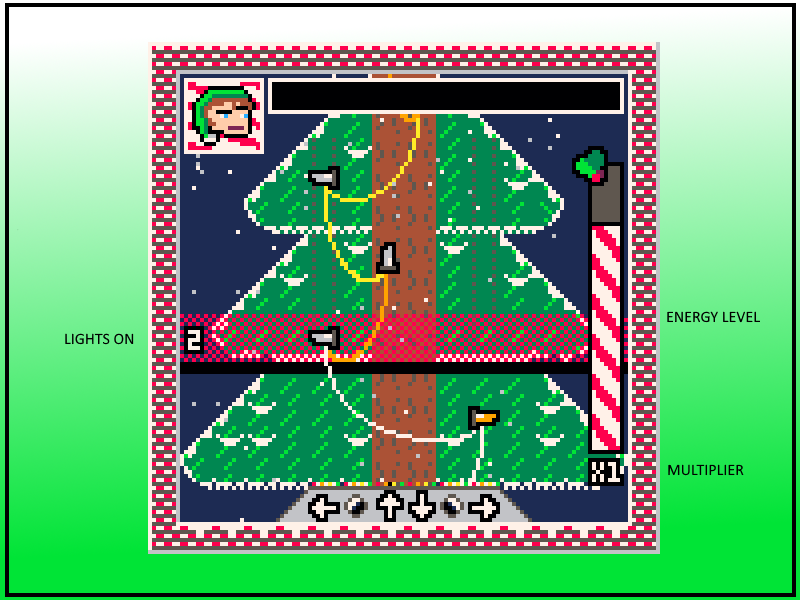 Playing the Game
The aim is to turn on the lights as quickly as possible. As time passes your energy level will gradually deplete. For each light you turn on successfully, your energy level will be refilled slightly. However, if you press the wrong key you will lose a portion of your energy.
When playing in Arcade mode your energy will not refill between stages. Try to chain successful lights together in order to build up your multiplier. As this increases, the amount of energy you receive for each light switched on grows. If you fail a stage, you can use a life to continue. This will restart the current stage with the amount of energy you had when you previously started the stage. Lose all 3 lives and its game over.
When playing Endless mode, the aim is to turn on as many lights as possible before your energy levels deplete. As more and more lights are turned on, the rate at which your energy decreases will accelerate. Try to keep your multiplier going and be quick in order to set the highest score.
Download
Click download now to get access to the following files:
Light Climber (Windows)
879 kB
Light Climber (Linux)
492 kB
Comments
Log in with itch.io to leave a comment.
is it in development or is it complete?
Thank you for your kind words. Glad you are having fun with it. Be sure to share your hi scores for others to try and beat 🙂